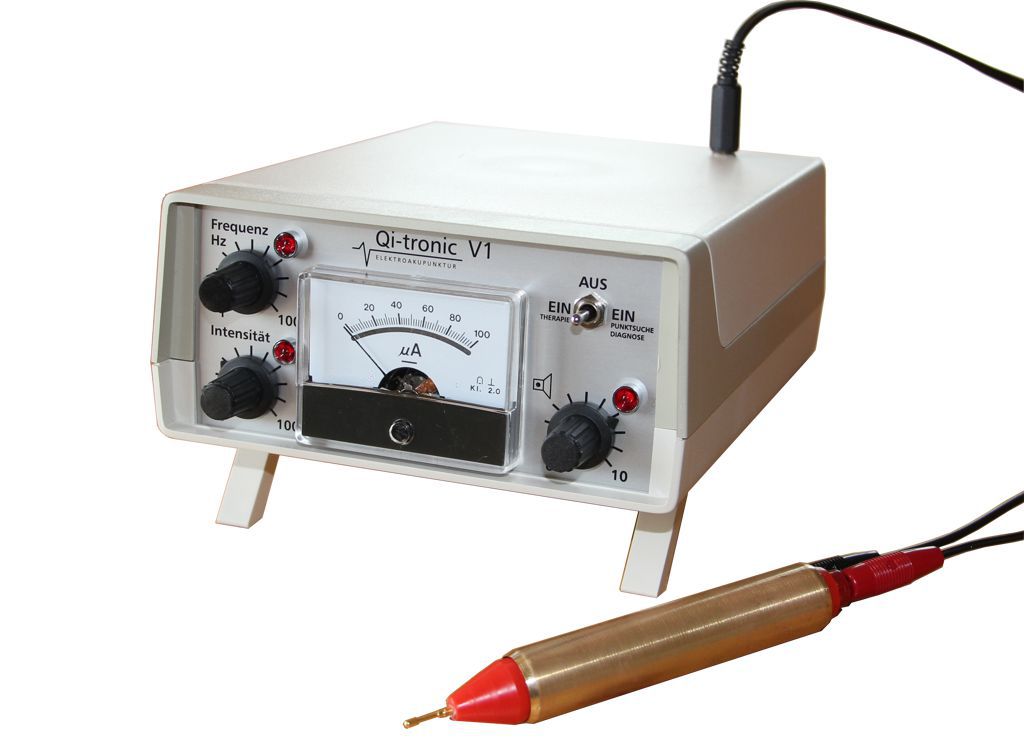 The diagnosis is made by measuring the energy values ​​at the acupuncture points.
The acupuncture points are additionally indicated by an acoustic signal.
Precise point electrode with spring contact
Functional control through electronic displays
Standard with very low current when measuring the points
Acupuncture with direct current (galvanic current)
Switchover to therapy of the acupuncture meridians
Effective pulses with adjustable frequency from 1 to 100 Hz
Infinitely adjustable intensity until the "tingling" of the impulses can be felt
Powerful 9 V battery
Attractive design, bright plastic housing, fold-out feet
Storage in an attractive light wooden box

Simple operation - high performance!

low energy consumption
Battery operation, independent of the mains
We deliver the V1 completely
Qi-tronic self-treatment sensor
Qi-tronic electrode brass
Standard battery 9V block
Charger (230V)
Therapy Manual (in german only)
all in a practical light wooden box

The V1 is characterized by a particularly manageable and easy to learn operation. Since it was also developed for private use, we deliver it with a self-treatment sensor. In this sensor, the electrode and spring contact are combined (see picture). This makes it very possible to hold the sensor at the acupuncture point found and to switch the device to therapy with the other hand. And so that you can treat other people, an additional brass Qi-tronic electrode is included. The Qi-tronic V1 meets professional requirements. It is therefore also perfect for use in medical practices and doctors' practices.
Using the V1 is very easy.
find the points to be dealt with in the manual or further literature
set the device to diagnosis and search for the point
switch to therapy
treat the point with the specified frequency and pleasant intensity
finished!
Several treatments are required to treat a condition.

A therapy manual is included with the V1 (in german only). The book shows you the most important points about many diseases so that you can start right away.