A device for the demanding acupuncturist.
for point search
for point stimulation
for anesthesia
for meridian therapy
The Qi-tronic A1 was developed and tested with a well-known acupuncturist.
4 outputs
low energy consumption
Battery operation, independent of the mains
economical thanks to modern electronics

Stimulation can be modulated in three ways
| | | |
| --- | --- | --- |
| a) | | by constant frequency |
| b) | | by frequency - pause - frequency operation |
| c) | | by operation with changing frequencies that switch automatically during operation. |
The device is therefore particularly suitable for the treatment of chronic pain and therapy blockages.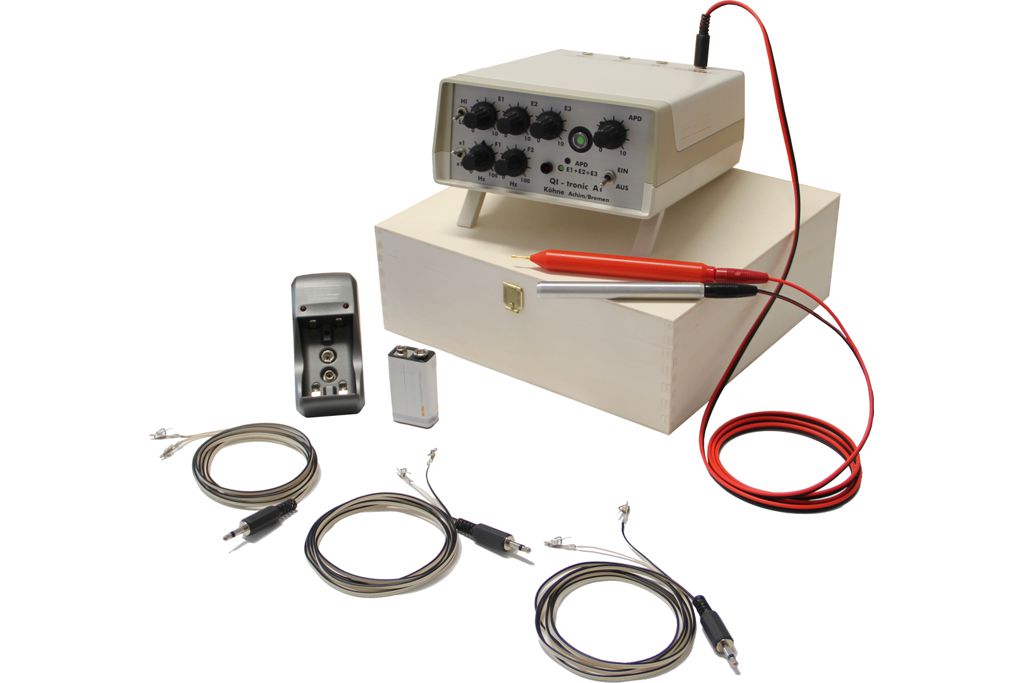 wide frequency range from 1 - 1000 Hz
individual adjustment of the stimulation strength via modulation switch plus amplification switch
easy switching from point search to point stimulation
Point electrode with spring pin
Acupuncture with direct current (galvanic current)
Very low current when searching for points
Control LED to indicate operational readiness and frequency
battery check
Safety and economy through battery operation
individual adaptation to point sensitivity
compact design

We deliver the A1 completely
Qi-tronic sensor
Qi-tronic electrode
Needle clamp cable for connection to pricked acupuncture needles
Standard battery 9V block
Charger (110V / 230V)
all in a practical light wooden box

The A1 is a professional device. The large frequency range and the different types of modulation open up a wide range of therapy options.
Very good results have been e.g. achieved in the combination of classic acupuncture with pricked needles and electro acupuncture with Qi-tronic. For this purpose, needle clamp cables are included in the scope of delivery.
Of course, the A1 is also suitable for private use. However, an understanding of the matter is required.